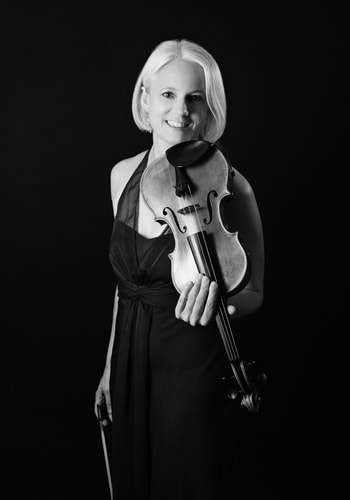 BMus(TCM) IIi From Trinity College of Music, London
PGCE (QTS) from UCL Institute of Education
LTCL in Music Performance 2004
DipABRSM in Music Performance 2014
Level 5 ESA Graduate Suzuki Teacher with the British Suzuki Institute
FRSA Fellow of the Royal Society of Arts


Helen is a graduate teacher with a PGCE (QTS) (Post Graduate Certificate of Education with Qualified Teacher Status) from London's UCL Institute of Education. Starting her career as a part-time classroom music teacher in the London Boroughs of Southwark and Hackney (where she became acting head of department), Helen juggled an active teaching and playing schedule. She was introduced to the Suzuki Method by violin students at a school in Battersea and decided to pursue further studies at the British Suzuki Institute. She achieved ESA Level 5 Graduate Suzuki Teacher status in 2017 with the British Suzuki Institute


Helen runs a successful Suzuki teaching studio from home and no longer works in schools. She runs her own branch of the Kentish Suzuki Group with other local teachers, performing in concerts and events. The group have performed at the Royal Festival Hall,The Royal Albert Hall, the Queen Elizabeth Hall and Trafalgar Square with the British Suzuki Institute. Students have gained places in the National Children's Orchestra (NCO) as well as local Bromley Youth Music Orchestras (BYMT).
Numerous students have gained music scholarships to local independent schools in Woldingham, Walthamstow Hall, Sevenoaks and Tonbridge schools. Her students have also received junior conservatoire places at Junior Trinity Laban and Junior Royal College of Music in London. Students have also won numerous prizes and awards at the Bromley Festival, Sevenoaks Festival and Tunbridge Wells Festival.


The Suzuki Philosophy


"If a person works at playing the violin well, he develops the talent to overcome any difficult problem by working, then the talent will be born to accomplish even the hardest problems easily"
Ability Development from Age Zero, Dr. Shinichi Suzuki; p.62

Dr. Shinichi Suzuki is the creator of what we know as the Suzuki Method. The philosophy believes that through the teacher and the parent (the home teacher), the student will excel in their personal development through the learning of an instrument. The aim is to produce well-rounded, fine human beings through the experiences brought on by learning an instrument, not necessarily the goal to produce outstanding musicians.We use the "Mother Tongue" method to acquire our home language and Suzuki extended that idea to learning an instrument. When learning a language, a child would initially listen to the word, before trying to imitate. Suzuki took this idea and extended it to teaching the violin. Each student listens daily to recordings and the melodies are then taught to the student by ear. This gives an opportunity for the student to concentrate on the technical and performing aspect of learning the instrument.

Dr Suzuki believed that as a home-educator, the parent has a major role to play in the Suzuki Method. The parent attends the lessons with the child and the parent is encouraged to be part of the learning process. The teacher instructs the parent during the lesson and gives elements of the lesson to practice on at home. During the lesson, parents are encouraged to take notes and ask questions. It is important that the parent understands the task in order to implement it at home. It is the responsibility of the parent to ensure that the work is done at home on a daily basis, which must also include listening to the recordings. A child cannot be expected to learn the art of how and when to practice if this is not guided. Discipline is a vital component in raising children. It is also a vital component for success at anything in life.


"The parent guiding the child's practice must not lose sight of the ultimate aim. To make the child independent of parental help."
The Suzuki Violinist, William Starr; p.22